I'm Todd L. Burns, and welcome to Music Journalism Insider, a newsletter about music journalism. Click here to subscribe!
Gareth Murphy is a 2023 Grammy Award nominee for Best Album Notes for the important Irish album Andy Irvine Paul Brady. I asked him just a few questions about the process of putting it together.
Can you please briefly describe the release for those that may not be familiar with it?
Andy Irvine Paul Brady is a one-off collaboration between two important Irish musicians, both singers and multi-instrumentalists. It was released in 1976 on Ireland's most innovative ever label, Mulligan Records, an imprint that produced some of the most experimental traditional Irish music, hybrid Irish-American country, and even nascent punk debuts from the Boomtown Rats. Behind the two main artists on this album, are two other figures, Donal Lunny, who played bazouki, guitar and bodhran, and who produced the record. The fourth musician is Kevin Burke, the fiddler in Lunny's main group at the time, the Bothy Band. This line-up, certainly in traditional Irish music, is what you'd call a supergroup. The other key detail is that Mulligan Records was the Bothy Band's own label, making this and others like it, a milestone in DIY production. In Irish music, a genre much maligned by 'paddy whackery' and predator producers, this is where things jumped up a level, sonically and artistically. This is where the pioneer artists started to take control. In fact, this album was recorded in one of the very best studios in the British Isles at the time, Rockfield, a farmhouse in Wales, where Queen recorded "Bohemian Rhapsody."
Now a cult classic, this album's unofficial pet name is The Purple Album, on account of its grape tinted sleeve. The 2022 reissue came out on Compass Records, a Nashville imprint that now administers the Mulligan catalogue. The audio was remastered from the original multitrack tapes, and the vinyl version comes in a purple coloured disk. The album notes that I wrote, which are a brand new addition to the original package, measure 10,000 words and are displayed with previously unseen photos. It's a novella booklet of three chapters, detailing EVERYTHING about the album — its background, its making, the history of each song, the release, and its longterm legacy amongst younger musicians. But I think, for those who don't know these names, nor Irish music generally, the most important thing to note about this record, is that it bridges traditional Irish music and counter cultural folk. It's arty. This is where the ancient world and the freedom of the nineteen seventies meet.
Why do you think liner notes were so important to this release?
Good question. Please allow me to answer in three parts. On the surface, one would be temped to say that folk music has always attracted an intellectual audience, and that we go to the trouble of writing liner notes to cater to a certain type of listener. That's certainly the explanation Elektra founder Jac Holzman came up with as he attempted to describe the crowds that flocked to Newport in the early 1960s. "A lot of school teachers!" These were the same types of people who bought Elektra's early releases, usually well educated, left-leaning, urban Bohemians, many of them amateur musicians, genuinely interested in expanding their knowledge of new and old musical forms from all over the world. And let's not forget that in the multicultural, multilingual atmosphere of New York's West Village, where labels like Folkways, Keynote, Tradition and Elektra were mostly based, music was coming in from everywhere. What we now call 'World Music' was, back then, all part of one big mixed-up folk scene, studied and appreciated alongside blues and bluegrass and every other strain of American folk. It was all traditional.
Liner notes owe a lot to these pioneer labels. It spread into jazz from earlier folk and blues LPs. The fact a Grammy category exists since 1964 says a lot also. They became a part of the LP experience, at a time when albums were something of an expensive luxury that kids couldn't afford. But I suspect this need for explanation follows on from an even older reference that is central to Irish music, and probably to other countries also. It's no coincidence that Irish folk singers, even instrumentalists who don't sing, always introduce each song or tune when performing live. That seems to be the accepted code, dating back to long before the recording age. The performer speaks to the listeners as a friend, as a host, explaining the provenance of a song, its time signature, sometimes with a cryptic riddle or personal anecdote to set the atmosphere. This conversational interlude serves two vital purposes. It makes the listener feel more at home. But it also provides a necessary pause to clear the lingering air of the previous song before a new magic spell can be woven. It steadies the listener. Folk is the music of social gatherings where atmosphere and mutual comprehension is everything. I've heard musicians say that the difference between a good and bad performance is generally, "the quality of the silence." In other words, how the room is feeling.
In Ireland's case, the original folk form was the voice, unaccompanied by instrumentation. Sung poems. No chords, just a lone voice. In Gaelic, it's called séan nos singing, meaning old way. And it's typically passed down from adepts to children born with the gift. That's where Appalachian singing gets its stuttering vocal motifs. It's almost Arabic, it's modal, but it comes from this séan nos tradition in Ireland and Scotland. Sung poems, unaccompanied, not so different to what you find in Hebrew religious ceremonies, where prayers are generally sung in melodies, the tunes differing from place to place, although the words are the same. In Ireland or Scotland, however, the songs are human prayers about life, about fathers lost at sea, or lost teenage loves who had to marry the richer man, about poverty, famine, tragedies, the passing of the seasons. A brilliant folk singer is a type of medium who can channel the dead world's testimonials into the room. And if they've got the gift, it's like a ghost has entered.
But the thing is, the magic of a song generally doesn't work on listeners without an introduction. People need that talking, that gentle grounding to be able to let go and enter into these frightening places of the soul. On records, artists can't exactly talk between tracks. That would be silly. Liner notes fulfil that job. In the specific case of this album, there was so much to say, it grew naturally into a whole booklet. The producer who commissioned this reissue, Garry West of Compass Records, kept saying "Keep going!" I was very conscious of taking on that interlude role of host, bringing together American and Irish audiences under the one roof. What was also vital was to show the two way traffic. There are songs and tones on this album that returned from America. Paul Brady had actually returned from America in the mid-seventies. There are also songs, probably of Irish origin that went to America, evolved into slightly different things, then came back in the last century. And we don't talk about this enough. The way it's all still moving in both directions. So there was a lot of translating and eye opening to do. I wanted American listeners to understand where this music is really coming from, to better understand Ireland, our common history and the experimentalism of this new form. I wanted to get beyond the awful paddy whackery of people's preconceptions about jigs and reels. And I also wanted Irish audiences to look at their own native pioneers in new ways. Because that paddy whackery I'm talking about, is largely our own fault.
What sort of primary material did you have to work with to write the liner notes?
All four artists are still alive, so there was a lot of interviewing. I spoke to everyone. Paul Brady, Andy Irvine, Donal Lunny and Kevin Burke. Also, the label's first employee and van driver who lived above the office, PJ Curtis. Actually, PJ was a brilliant source of side-fill information about the plugging of the record and background organisational things. But Donal Lunny turned out to be a particularly perceptive eye witness. Producers usually are. I think Irvine and Brady themselves were so under pressure to perform, the whole recording session passed by in a blur. Lunny has known Irvine and Brady for 50 years, he's produced several other records for them, they've toured together countless times. Nobody knows them better. I think I should also mention here that my father was manager of Lunny and Burke's main group at the time, the Bothy Band. So, as a boy I saw Mulligan with my own two eyes, and for a while, Lunny lived with us. I could picture the stories and places very easily.
The research was very conversational. Almost like sitting around a kitchen table and piecing together old family history. I cross checked everything with solid material sources such as newspaper archives, gig posters, recording dates, even weather charts, everything I could find, to nail down the loose memories into hard facts. And I guess all that comes out in the writing. It's personal. The thing is, we were a rock family. My dad was a promoter of big rock gigs, and all this was happening just as punk was exploding, so strangely enough, trad was always foreign to us. We'd just returned from London where I was born. And that's really the essence of the bigger story surrounding Mulligan, and this body of music, generally. The 1970s, for Ireland's airwaves, were a period of American dominance. The rockers were taking over. Without realising it, these musicians were swimming against a rising tide. They were mystics. Much of this context has been forgotten. Today, Irish people don't know how inhospitable Ireland was towards its own indigenous pioneers. This meanness and rejection drove many a great musician to despair. The few who actually saw it all, and I include my boyhood self in that category, haven't forgotten the injustice. Everyone involved remembers these years with great pride, but also with a lingering anger. Because of the way everything got marginalised and submerged by rock and bad business. This was the loss of innocence, really. I guess that's in the writing, too.
What's the most interesting thing that you learned while researching this music?
There were many surprises. The background story of Mulligan is pretty extraordinary. I study labels, I've written books and magazine spreads about labels, but never knew what was right under my own nose. I'd already heard of Diane Guggenheim, or Diane Hamilton as she preferred to go by. She was a multi-millionaire American mining heiress who fell in love with Irish music in 1930s New York, thanks to an Irish nanny who sang her traditional songs. Coming to Ireland as a young woman in the late 1950s, she discovered the Clancy brothers. They say she fell in love with Liam. What's for certain is that she took them all back to Greenwich Village and set them up with their own label, Tradition Records, exactly one of those folk labels that wrote liner notes and produced LPs of substance.
What I didn't know until researching these notes, was that a little later, in the late 60s, she moved to Ireland permanently, and in 1975, found the trail blazer of the next generation, Donal Lunny, who at the time, had just left Planxty to start the Bothy Band. These, by the way, were the two most important bands ever in traditional Irish music, Planxty and the Bothy Band. Andy Irvine was in Planxty with Lunny. They were the founders. Paul Brady was basically Lunny's replacement in Planxty after he left. Lunny of course was in both groups, which is why history tends to look at him differently. So this collaborative album is right at the crossroads of major events and involves key people that history will be talking about for a very long time.
As we now know, Paul Brady went on to become Ireland's most famous folk singer, bar perhaps Van Morrison, who wasn't exactly a folk singer, anyway. Andy Irvine never got the same international recognition as Paul Brady did, but it's fair to conclude that he didn't seek that kind of 'career'. I think Irvine only ever sought Ireland's love, I suspect because he was an outsider, a London-born boy, actually born English to an Irish mother. I think they'll say one day that he was on some mystical road home. For being so different in his approach, literally a real life troubadour from a previous century, Andy Irvine is massively respected in Ireland. He's the guy who stayed true to himself and never sold out. As for Lunny, I think it's fair to say he was the most important traditional Irish musician in the last 50 years. Certainly, the most important since Sean O Riada, an earlier composer who was first to place traditional Irish music in the modal family, in other words, pentatonic music that weaves around drones, exactly like Arabic and Indian music.
To her credit, Diane Guggenheim recognised this. By the time she was living in Ireland, raising children and becoming Irish herself, she was older, wiser, and far better acquainted with the subtleties of its culture. For example, one of her best friends was Nobel poet Seamus Heaney. She knew everyone, the playwrights, the musicians. She was a party host mixing with the best minds of her generation. She took Lunny under her wing and financed the creation of Mulligan, his own label for his own band and for his friends, most of whom he produced. So, this album represents a time, a place, a flowering. Pan back, and it's at the epicentre of a much bigger story about Ireland's coming of age. The golden age, 1976, an actual perfect summer and dream musical harvest that hasn't been surpassed since.
The second eye opener for me was getting into the very mechanics of Irish music. Again, not being a singer, Lunny was the best, most objective source. He's left-handed. I hadn't paid any attention to this before, but I think he sees music the other way round. Most people, myself included, tend to think of Irish music, and music generally, as tunes and chords and lyrics. We look at the harmonic side. We focus on the song. Whereas Lunny sees rhythmic patterns first and foremost. He's interested in the dance origins of traditional music. He actually places rhythm above harmony. And you don't find many musicians who do. Hence his ability to drive bands from the back and from underneath. He's got this ability to lift everything into the air. Hence also his instrument of choice, a hybrid variation of a Greek instrument, the bazouki, itself a cousin of the saz, a stringed instrument you find all over the Middle East. It's a lovely instrument that retains a resonant ring when strummed hard and rhythmically. Far sweeter than an acoustic guitar. He plays it percussively, modulating drones with great subtlety.
Both Lunny and Irvine, who played Balkan instruments, really brought something new to the table. In Planxty, they normalised new sounds in Irish music that everyone copies today. These instruments have become so ubiquitous, youngsters learning traditional Irish music today imagine they're native. Irvine, as a younger traveller, had actually slept rough in parks in Romania. He really lived it, fascinated by East European folk, noticing parallels with Irish repertoire. The Turkish tinge that haunts the Balkans in much the same way that Moroccan music haunts Andalusia. Irish music is full of foreign ingredients that morphed over time into their own unique thing. Lunny always saw jigs and reels as an extension of African music. He was a jazz freak who imported ideas of back line syncopation and front line tune players. Brady is a whole other animal, more bluesy in his outside references, but driven by some inner power source. If you touched him you'd get a shock. I'm not even sure he knows what he has himself.
The point is, these men gave traditional Irish music a massive lift by fucking with the formula. They understood and respected with great sensitivity what was inherently sacred about the source material, in particular the songs and time codes and history. But they played with sound, fearlessly, cleverly, imaginatively, in ways that gave old magic new life. Most importantly of all, they won over young audiences. They kept it alive by changing it, by making it modern. This is the very essence of music. Taking from the dead, giving to the young. Keeping the camp fires burning brightly. They really were on a journey. They lived on the road, kept playing, they're still playing all the time, and will leave behind a massive legacy. And the joke is, not even Ireland understands them yet.
I think that's what makes me so happy about this Grammy nomination. It confirms what I've felt all my life. This story is unfinished business. They were so ahead of their time, the world is only starting to get it now. What makes it so real and timely is the fact there's been such a vibrant scene bursting out of Dublin in recent years, a new generation of avant garde trad bands like Lankum and Ye Vagabonds, who are starting to make serious noise in the whole Rough Trade community in London and the UK, altering conceptions of cool, breaking old genre barriers both inside Ireland and across the wider indie landscape. These brilliant new Millennial bands are the direct heirs of these older pioneers. And they know it. Something is happening and it's affecting this new century's way of seeing.
If you're curious, check this video out of all three of them, Andy Irvine, Paul Brady and Donal Lunny, playing live just weeks after this record was finished.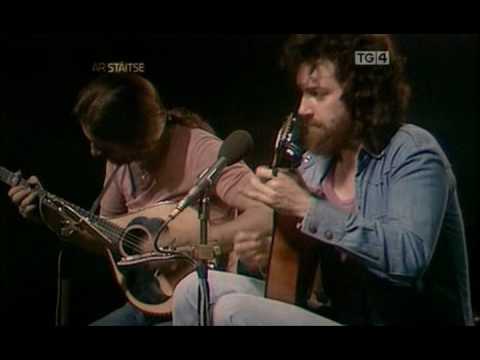 If you win the Grammy, where will you be displaying it?
We live in a 1930s apartment in Paris that we recently discovered was first bought and designed by an Egyptian prince, seemingly for a mistress. We never did understand the curious mix of Art Deco and Arabian detail. Anyway, there's two lovely marble plinths with arches above. All our nice vases go there. A Grammy would find a forever home among them. That said, I'm not going to win. Nor am I even thinking of the actual object. The honour itself is all that matters to me, and being nominated is already a huge honour, especially for a niche genre. I'm going to Los Angeles, anyway. A curious outsider, an also-ran. I'll no doubt be watching from the edges. But that's okay. I suspect that's where my own mojo comes from.
What's next for you?
I'm deep into a brand new book project. Something I really believe in. But I'm afraid I can't talk about it. Not yet, anyway.
One of the many things I've learned about the writing life: Shut the fuck up! Never open the bottle until it's ready for serving. Keep the fizz inside. Surprise is always the best form of attack!
Did you enjoy this interview? You can support this newsletter by subscribing here. Among other things, you'll get full access to all 500+ interviews I've done as part of the newsletter. I've talked with writers and editors from Pitchfork, Rolling Stone, the Guardian, and many more.