I'm Todd L. Burns, and welcome to Music Journalism Insider, a newsletter about music journalism. Click here to subscribe!
Emma Garland is a culture writer and editor based in London. Originally from Wales, Emma spent more than seven years working at VICE as an editor, and nowadays, she's freelance with bylines in a variety of places. Jay Kay from Jamiroquai once called her about a piece she wrote about the band's comeback show. (You'll have to read this interview for the whole story… but despite being described as "Prince in a fleece," he totally loved it.).
How did you get to where you are today, professionally?
One of the first memories I have of 'being on the computer' is writing a novel in my pre-teens that was basically Jim Henson's Labyrinth with the characters' names switched out. At the same time, my entire family was music obsessed. My dad's a musician, my mam and aunt were total fangirls for bands like Fleetwood Mac and Pink Floyd, and my older cousin—the closest I have to a sibling—raised me on a diet of 90s punk, nu metal and skate culture before I was old enough to know what a "chocolate starfish" even was. Clearly music and impulse to write were both in me already, but journalism wasn't something I worked towards professionally. I fell into it through lifestyle.
I started writing about music in university. I must have been around 18/19. I was studying Creative Writing and English Literature and one of the modules had to do with publishing. They probably meant 'submit your prose or poetry to a relevant journal or magazine', but I ended up pitching to music publications instead. I'm not sure whether it was lack of confidence in my own creative writing, a lack of interest in it, or I just wanted the free records and gig tickets that came in exchange for reviewing stuff, but from there I ended up writing regularly for various DIY magazines and blogs. I did that for a long time alongside a rotation of shitty day jobs—retail, bar work, a library in a conservatoire (this one was actually a dream job, I will miss it forever). It wasn't until I joined VICE's music vertical Noisey, when I was in my mid-20s, that I started writing for a living. The rest is, regrettably, public domain.
Did you have any mentors along the way? What did they teach you?
Not in any formal sense, but when I was cutting my teeth at VICE there were so many writers I looked up to and continue to look up to who passed through their doors—among them Joanna Fuertes, Kyle Kramer, Joe Zadeh and Dan Ozzi. People whose work feels singular to them, and unwavering in its voice. Jo edited my first few freelance pieces at Noisey and was extremely kind and encouraging. She made the many barriers to entry that had previously kept me out of the media feel—not invisible, but irrelevant, which I also felt working alongside Kyle, Joe and Dan. I'm always working towards an end goal where I'm writing only what I feel compelled to, in my own style. I'm not sure how realistic that level of autonomy is in the current climate (tellingly, most of the names I just mentioned no longer write full time), but those are some of the people whose work I bear in mind when I'm trying to delude myself that it's possible.
On a more intimate level, I'm lucky to have a few close friends in fellow writers Hannah Ewens, Lauren O'Neill and Daisy Jones. They're sickeningly talented in their own right, and their intelligence and instincts can always be relied upon to challenge me when I need a kick up the arse or reign me in when I'm about to do something stupid. Due to my obsession with independence I'm terrible at asking for guidance unless I'm having a full blown catastrophe (another reason why I've never had a mentor), but if it weren't for them I'd have packed in writing years ago and become an embittered receptionist for a sexual health clinic or similar.
Walk me through a typical day-to-day for you right now.
I have a Mediterranean attitude to work in that my day revolves entirely around food. I try to wake up around 8/9AM to get on my Patrick Bateman bullshit—drink a cup of boiled water and lemon, do a bit of YouTube yoga to unfuck whatever insanity our came-with-the-rental mattress has done to my spine in my sleep, eat some fruit, make coffee. Then I'll check emails and make a to-do list for the day while my brain wakes up. I try not to look at social media at all until the afternoon, because 9 times out of 10 I will see something that'll rattle me against my wishes and it will derail my entire day.
I can't force myself to write if I'm not "feeling it" because I'm an undisciplined swine, but ideally I'll do the bulk of my writing in the late morning/early afternoon before taking a Big Break to eat a Big Sandwich. This will inevitably make me sleepy, so I'll spend the rest of the day doing non-writing work—going back over what I did earlier, more emails, interview prep. If I can't write that day, I'll cut my losses and do life admin / left brain shit and try again in the evening. I'm kind of a hermit so my work schedule is likely to fall out of whack as I lose track of time after 5PM, but I think it's good to impose a sense of order on yourself where possible. Even more important is imposing breaks, even just a quick 10-15 minutes here and there, or you'll run yourself into the ground and detest everything.
What does your media diet look like?
Increasingly selective. I subscribe to a lot of newsletters like The Culture Journalist by Emilie Friedlander and Andrea Domanick, A Spoonful of Dread by Joanna Fuertes and SCARY COOL SAD GOODBYE by Meaghan Garvey. Whenever there's a new album out with an interesting conversation around it, I refresh Craig Jenkins' author page on Vulture waiting for his review. Informed, compassionate and a fucking wizard with turns of phrase, he offers a point of view that leaves you feeling like you've just eaten a banging home cooked meal. That's what I want more and more these days – sustenance. On that note I also subscribe to Channel 5 with Andrew Callaghan and Popular Front, which are both platforms I feel represent the future of journalism (i.e. grassroots, independent, with a clear guiding ethos). I'm also into this zine called Hellebore, which is dedicated to British folklore and occultism.
Truthfully though I probably spend most of my time listening to This Is Important, the podcast by the four dudes from Workaholics where the most popular topics of discussion are—by quite a large margin—porn and cum. As I say, it's important to make time to turn your brain off.
How has your approach to your work changed over the past few years?
I think I'm in my biggest transitional phase right now actually. Having spent most of 2018-2021 as an in-house editor, I'm currently figuring out my rhythm as a freelance writer. I'm also in my 30s so a shift in priorities has come with that too—but ultimately it's an ongoing push-pull of trying to do work you respect and can stand behind while also having to do what's financially necessary. The main thing that changes is my willingness to do the necessary stuff.
How do you organize your work?
I wish I had a good answer for this but my process is usually: spend weeks fretting and psyching myself out of things, then rush to meet the deadline at the last minute. I'm class at arranging my commissions and invoices in Google Sheets and colour-coding them by status, though. My years at the library have not gone to waste.
Where do you see music journalism headed?
After a long decade of music publications and websites being shut down or integrated into more general coverage, I think we're seeing a return to independent media and dedicated nichés. People are essentially doing early-2010s style blogging on TikTok now; CREEM has re-launched and seems to be embracing the cultural return to irreverence. People want curation, but I don't think they want it from brands who have demonstrably spent the last 5-10 years pandering to trending topics, algorithms and industry "pivots". I also think audiences want more meaningful coverage. Given the amount of time and money we collectively spend consuming media (the average Joe Rogan episode is 2.5 hours long) I don't buy the argument that people "don't have the attention span" to read anymore, I just think people want music journalism that is a) good, b) respects the intelligence of its audience and c) feels new—even if it isn't, necessarily.
What would you like to see more of in music journalism right now?
Less profiles that read like press releases. Less micromanaging of artists to the point where it's impossible to get access and then a default for members of their team to be sat in the room (or on Zoom) with you during the interview. More putting me up in hotels for a laugh. Less dumbing things down for an assumed general audience (if someone doesn't recognise a cultural reference and they're otherwise invested in the piece, they will look it up, they are literally reading it on a computer). More working class journalists, more myth-making, MORE HUMOUR.
What would you like to see less of in music journalism right now?
Fontaines D.C.
What's one tip that you'd give a music journalist starting out right now?
Run a blog / newsletter / independent platform of your choice. You cannot and should not rely on commissions to get your career started. You need somewhere to develop your own writing style, which requires the playfulness of solitude. The vast majority of publications will jam their fingers in your copy and mould it to fit their in-house style, so it's good to have a strong, authentic voice of your own if you're in it for the long haul. Ultimately the goal is to write as you (invaluable, eternal), not as The Guardian or VICE or wherever (monetised, ephemeral). An independent platform also helps you build your own audience and acts as a one-stop shop for all your work, which, early on, is helpful for commissioning editors to get a sense of what you can do.
What artist or trend are you most interested in right now?
Ethel Cain. I will basically listen to anything GothBoiClique related and she collaborated with Wicca Phase Springs Eternal on a track last year, which is how I discovered her, but her debut album Preacher's Daughter came out recently and it's just a stunning blast of stadium pop, Southern rock and doom metal. There's no way of explaining how that all fits together coherently, so you'll just have to listen to it.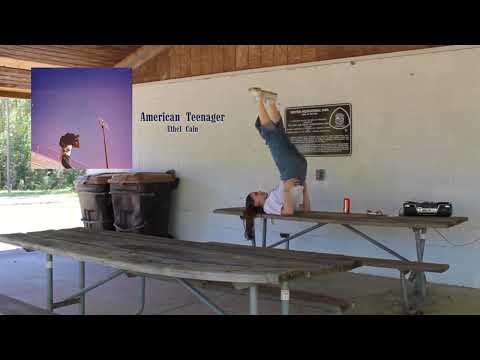 What's your favorite part of all this?
As a person of Catholic school experience, I love any artist that fucks with Christian texts and iconography as a way of rebelling against a cloistered religious upbringing, or processing life events so magnitudinous that only a 'Devil and God' framework can match how they feel. Lingua Ignota and King Woman have done this in the past, and Ethel Cain—an alias of a young trans woman called Hayden Silas Anhedönia—is doing it now. What's interesting about Ethel Cain, I think, is how dreamy and liberated and a lot of her music feels despite its subject matter. I profiled her for Crack Magazine but it's not out yet so you should read the Pitchfork interview from last year, or Meaghan Garvey's recent essay on the album.
What was the best track / video or film / book you've consumed in the past 12 months?
I don't know if I'd call it the "best" but I spent most of this winter working my way through Generation Kill—that old HBO mini-series about a Rolling Stone reporter embedded with a marine corps' battalion during the invasion of Iraq. I'm currently reading the book it's based on and it's a great example of on the ground reporting that has a pretty clear angle (the Iraq war… bad) while portraying the marines in a more objective light. I think that's something Channel 5 and Popular Front do really well too. There's a broad worldview informing the journalism, but very little judgement of individuals.
Much like Gerard Way I'm very psychologically stuck on 9/11 and its resulting wars, which is quite dumb considering I'm from rural Wales and was 12 at the time, but I think seeing so much brutality on the news 24/7 as I was just beginning to develop a winder understanding of the world completely rewired my brain. Anyway, I find both the miniseries and the book to be a really compelling and disgusting window into the belly of the "War On Terror". I don't know if it's living in the UK, where so much conflict reporting is a weird mix of detached and patronising—like, "oh dear, isn't this awful, if only there was something someone could do about this", while the government is actively bombing the country—but I have a lot of respect for reporting that feels both critical and human. The book, which is by a journalist called Evan Wright, does this especially well. I'm getting a lot from it right now.
If you had to point folks to one piece of yours, what would it be and why?
I had a lot of fun reviewing Jamiroquai's comeback show in 2017. It was one of those rare moments where industry excess and good subject matter combine. The PR team sent me to Paris, put me up in a place quite literally called Hotel California, and we spent 24 hours wreaking havoc across the city where I smashed my camera, drank too much in a club that used to be Bizet's house, and made very detailed notes about Jay Kay's hats. After the piece was published, the PR team contacted me to say that Jay Kay wanted to speak with me directly and I promptly began to shit myself because at one point I definitely described him as Prince in a fleece. He ended up calling while I was in therapy, but he left a voicemail addressing me as "mate" and said it was the best write-up he'd ever had. So that was nice. I have a hard time saying I've written anything that I'm particularly proud of, but if you can't trust your own judgement then you might as well trust the guy that wrote "Canned Heat".
The article no longer exists in its original form because VICE merged everything onto one site and ate all the UK versions of its articles in the process (back up your work, people!), but the US version is here.
Anything you want to plug?
Listen to Ethel Cain.
Did you enjoy this interview? You can support this newsletter by subscribing here. Among other things, you'll get full access to all 400+ interviews I've done as part of the newsletter. I've talked with writers and editors from Pitchfork, Rolling Stone, the Guardian, and many more.